Windpower Monthly: JULY 2016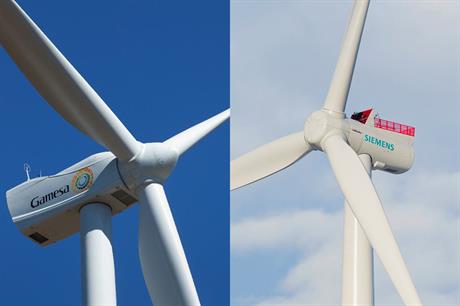 GERMANY/SPAIN: Siemens has signed a binding agreement with Gamesa to merge the two companies' wind businesses, creating an OEM with a 69GW installed base worldwide.
WORLDWIDE: We have omitted some of the large turbines where progress has stalled, such as the 7MW Samsung and MHI Sea Angel machines, but the ten turbines described here are either in production or scheduled to start soon.
UNITED STATES: An upbeat atmosphere pervaded AWEA Windpower 2016 in New Orleans, but delegates also faced up to some sobering facts about how the industry can meet the challenges of a subsidy-free future in a highly cost-competitive market.
GERMANY: The German government's insistence that renewable-energy projects must deliver all their electricity into the wholesale market to qualify for support risks cutting off some of the more innovative uses of wind power currently under development.
GERMANY: One Sunday in May revealed some very different ways of dealing with wind generation among Germany's energy traders when faced with extremely low prices.
UNITED STATES: A multi-brand service model is taking off in the operations and maintenance (O&M) market.
EUROPE: Transmission operator Tennet has unveiled a hugely ambitious vision for an interconnected North Sea with the proposal of a 'hub-and-spoke' transmission solution.
To the list of Vestas and Mitsubishi Heavy Industries, GE and Alstom, Nordex and Acciona, we can now add Siemens and Gamesa (p10).
The European energy market is changing. This transition is characterised by a significant expansion of residential power production, increased complexity in balancing demand and supply, and the first developments of renewable-energy sources combined with storage systems at an industrial level.
WORLDWIDE: Onshore wind fails language lesson; Green holidays in Germany; Austraiian gacts and figures; and GCube's Jatin Sharma on subsea cabling incidents