Windpower Monthly: January 2016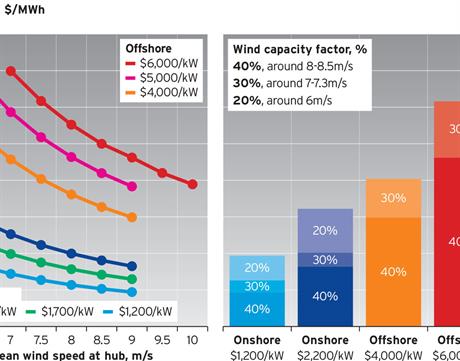 WORLDWIDE: Windpower Monthly's annual review of wind energy costs show offshore wind installation costs falling for the first time, bringing down generation costs
WORLDWIDE: As predictions for storage aimed at renewable-energy integration grow to over 60 times the current market, investigations reveal that an efficient solution may be to make it available to all energies.
CHINA: One of the oldest large-scale wind farms in China, the team at Huangang wind farm in eastern China has technology from parent company and leading developer Longyuan Power to help monitor the 105 turbines, and new ways to help increase production.
WORLDWIDE: Predicted to become a $1 billion industry in wind inspections, drones provide clear benefits in blade monitoring, but it is early days for their widespread adoption.
We don't yet have all the relevant installation and generation figures for last year, but everything we do have points to 2015 having been a good year for wind power.
WORLDWIDE: The question I posed at end of my last column was: "Will the renewables revolution happen fast enough to save the climate?" Although the COP21 UN climate summit in Paris did not definitively answer the question, the possibility of a positive answer seems much greater now than it did before the event, even after a few weeks of sober reflection.
WORLDWIDE: US shows how to make wind work; Obama berates climate sceptics; and doing the sums in toasties and trees